Here are a few photos we've taken around the place. Just a few to capture some of the things I've mentioned.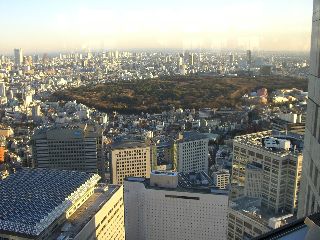 Tokyo in the day
This photo was taken from the 45th floor of the Tokyo Metropolitan Government building in Shinjuku. Hopefully it gives some idea of the size of the place. It stretches all the way to the horizon. Note the brown skyline, common to all big cities. Also note the size of the park, enclosing Yoyogi Hill and the Meiji Jingu shinto shrine. When you're there, it feels like being in a real forest.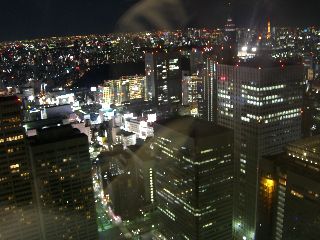 Tokyo at night
From the same building, this is Tokyo at night. That's a lot of lights! That really bright bit in the middle is Shinjuku, where we're staying.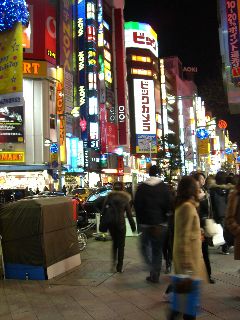 Neon signs
That's a lot of signs! Now you can see why the spot is so bright. It seriously is as bright as a cloudy summer day. Also notice that all the buildings have about six or seven storeys.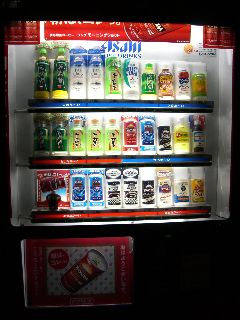 Vending machine
These things are everywhere. This one sells non-alcoholic beverages from Asahi (yes, the beer company) – tea, coffee, water, health drinks and more. Not that this machine sells both cold drinks (blue stripe underneath) and hot drinks (red stripe underneath). You get see a real sample bottle here, not just the logo of the drink. When you buy something, the machine will thank you in Japanese.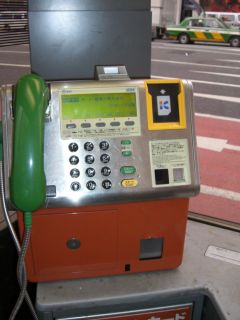 ISDN payphone
This epitomises Tokyo as geek heaven. It's a payphone that allows you to plug a computer in to a jack to the right of the keys and get high-speed ISDN dial-up connections. Like the vending machine, the phone talks: it thanks you, tells you to insert more coins and says other things I don't understand.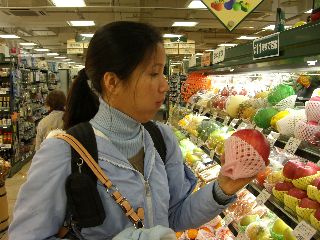 Big fruit
(Featuring my lovely wife Thanh.) That's an impressive apple! It costs way more than an apple should, but considering it's that big and shiny, and individually packed, it just might be worth it.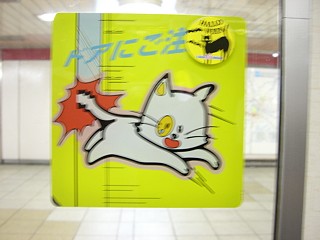 Stand clear!
Note the use of a cat. This sign is telling you to stand clear of the power-operated doors on the train. They use a cat getting its tail caught rather than a person getting an arm caught. Lots of signs use animals here. Another classic I saw was a "don't litter" sign featuring an elephant throwing a can onto an already littered street with its trunk.
The halloween cat sticker was put there by vandals, but it conveniently illustrates something else: applying Japanese rules to English. They've broken a word across two lines without a hyphen – that's what you do in Japanese, and they didn't realise you don't do that in English.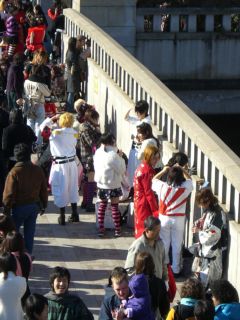 Harajuku
These people would be the Japanese equivalent of punks, and Harajuku would be Tokyo's equivalent of Newtown in Sydney. I loved the place – it was so quirky and bizarre. The outfits the people wear are often protesting against political correctness or tradition: you get girls with dyed yellow hair and very dark makeup, because the classic Japanese idea of beauty is black hair and white skin; there are lots of girls it maid outfits, in opposition to feminism's "girl power". A lot of the people make their own clothes, too. You can buy the stuff in shops here, but that isn't half as cool.